It's summer and there's nothing more refreshing than a delicious, icy cold popsicle! Our favorite: Berrynaked! Locally owned, Berrynaked's pops and purées are gourmet, artisanal and natural.
Big fans of the Inwood Village | Dallas location, we're simply popping with excitement that Berrynaked is expanding northward in DFW!  The new Richardson shop features a café experience with table seating and sofas with free Wi-Fi and will also premiere a brand new Berrynaked product: a line of superfood-focused purée bowls. Yum!
New Berrynaked Purée Bowls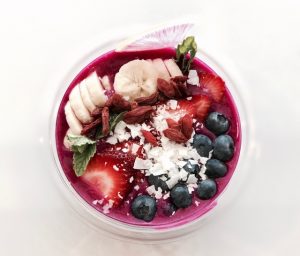 The Berrynaked Richardson location will launch the new Berrynaked purée bowls alongside its already popular pops. Just in time for summer, the purée bowls are a fruit purèe-based snack or meal-replacement and are made-to-order, so customers can enjoy a customized creation with a selection of delicious ingredients and toppings. The purée bowls are divided into two categories:
Soulful – Superfood focused bowl, with flavors like Pitaya (dragon fruit), açai, and matcha protein bowl topped with fresh fruits, and nutritious toppings such as hemp hearts, bee pollen, coconut shavings, goji berries, and cacao nibs.
Sinful – Dessert bowl featuring familiar flavors like Strawberry Creme, Cookies n' Cream and more adventurous concoctions like Hazelnut-butter Banana and Avocado Coconut presented in a waffle bowl with various sweet toppings and drizzles.
Berrynaked Organic Pops
Berrynaked in Richardson will also feature its deliciously popular pops all locally made with fresh, natural, and organic ingredients whenever possible. The gourmet pops come in a wide selection of flavors in four categories:
Signature — Quintessential pop, with flavors like Prickly Pear Lemonade, Hibiscus Raspberry and Carrot Orange. 50-70 calories
Luxe — A little decadence. A lot of luxury with flavors ranging from Chocolate (made scratch from organic cacao) and Strawberry Cream to vegan friendly options such as Avocodo Coconut and Key Lime Coconut Cream. 90-150 calories
Vitality — Superfoods for the health nut, from Hydrate (made with coconut water with slices of seasonal fruit) to Green Power (kale, avocado, banana, and lime). 60-90 calories
Crazy — No rules. Fun. Extreme. Amazing. Pick your treat, from Cookies n' Cream to Azuki Bean Mochi to Blueberry Cobbler with Piecrust. 120-200 calories.
For a bit more indulgence, have Berrynaked's "pop artists" dip your pop with white chocolate or Belgian dark chocolate drizzles and assorted toppings.
Richardson Grand Opening Block Party with the American Heart Association
The official grand opening event for Berrynaked's Richardson location is set for this Saturday, June 17, 2017, from 12pm – 2pm. Pop by for family fun, benefiting the American Heart Association. Enjoy music, face painting, balloon art, and a variety of activities and giveaways from neighbor businesses like Pure Barre RIchardson, Sun Lee Taekwondo, Smoothie King and more!
Berrynaked will donate 20 percent of Richardson grand opening day sales to the American Heart Association, which will also be on site, along with 20 percent of Vitality Pops Series sales at both stores (Inwood Village and Richardson) for the entire month of June.
More Berry Good News
Berrynaked has also announced plans to open a stand at the new Legacy Hall at Legacy West in Plano this fall. In the meantime enjoy Berrynaked organic treats at the Richardson and Inwood Village – Dallas locations or at your next visit to the Gaylord Texan Resort & Conference Center's Marketplace or Paradise Springs Snack Shack.
The new Berrynaked | Richardson is located at 326 W. Campbell Road in the Canyon Creek Shopping Center, just off of North Central Expressway, in the NE intersection of Campbell and Collins.
#LovellLoves Berrynaked. #berrynakednation