It looks like the triple digit heat is finally behind us in North Texas. We're ready for autumn. You know, football, fall foliage, and, of course, the Fair! Here's The Lovell Group's list of top fun things to do around DFW this fall:
The State Fair of Texas
If you know us, you know that we never miss the State Fair of Texas. The big event takes place every year at Fair Park, in our hometown of Dallas. The Fair runs from Sept. 29 though Oct. 22, with plenty of fried food, Midway rides, exhibits, shopping and concerts. Among this year's highlights:
Food – Each year concessionaires compete for a chance to win the Big Tex Choice Awards for the most unique and tasty new fair food. If you're an adventurous eater, don't miss out on this year's winners, the Funnel Cake Bacon Queso Burger and the Gulf Coast Fish Bowl. For us, we can't go wrong with a famous Fletcher's Corny Dog! The signature food item of the Fair, Fletcher's corny dogs have been consumed top names from Mikhail Gorbachev and Oprah Winfrey to Julia Child.
Lifestock & Agriculture – A brand new Briscoe Carpenter Livestock Center is opening just in time for this year's Fair. The impressive new 55,000-square-foot facility will host a variety of livestock and agriculture activities.
Free Music: The Chevrolet Main Stage has a fun lineup of free concerts. There's something for everyone, from local Arlington native and Granny winner Maren Morris, Flo Rida, Pat Green and For King & Country. Check out the lineup.
Rock the Fort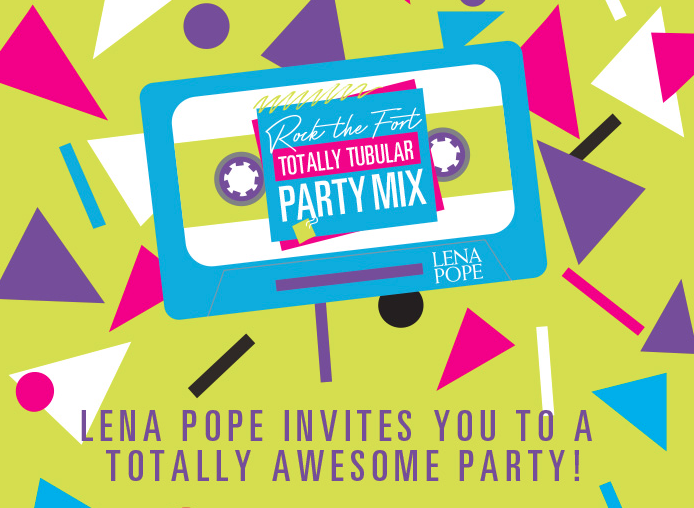 If you're a fan of 80s music, like we totally are, you'll want to head over to Fort Worth's Panther Island Pavilion for Lena Pope's fundraiser, Rock the Fort, set for Friday, Sept. 29. Enjoy live music by the ultimate new wave '80s band, great food and open bar with premium drinks. '80s attire and costumes encouraged. Proceeds benefit Lena Pope's Chapel Hill Academy and Early Learning Center, so don't miss out an this totally awesome party for a great cause! Ticket info here.
Disney on Ice presents Reach for the Stars
For the little ones (and the young ones at heart), there's simply nothing better than Disney! This Thanksgiving break, avoid the malls and instead sit back and relax with the family at Disney on Ice presents Reach for the Stars, hitting Allen Event Center. Disney on Ice is one of our favorite clients, so we can't wait to see Mickey, Minnie, Donald Duck and Goofy set the stage for this star-studded Disney extravaganza. "Unleash the magic with royal sisters Anna and Elsa and the hilarious snowman, Olaf, as they sing captivating songs like "Let it Go" and "In Summer." Life is the bubbles when Sebastian strikes up his hot crustacean band and the Daughters of Triton make a splash as they introduce Ariel in an '80s pop montage. Get tangled up with a chorus of harmless hooligans when they get a visit from the spirited Rapunzel and her charming ally, Flynn Rider, on their journey to see the floating lights. Relive a tale as old as time when Belle opens her heart to new adventures as the Beast's enchanted objects take center stage for a dazzling skating spectacle." Shows run from Nov. 22 though Nov. 26, so get those tickets!
Autumn at the Arboretum
Celebrating it's 12th year, Autumn at the Arboretum at the Dallas Arboretum and Botanical Garden is back with it's nationally acclaimed Pumpkin Village. The sprawling event features pumpkin houses and creative displays utilizing more than 90,000 pumpkins, gourds and squash along with hay bales and cornstalks. This year's Pumpkin Village takes visitors on a trip highlighting the beloved book, the Wonderful Wizard of Oz. There are plenty of photo opportunities throughout the Oz themed village. Autumn at the Arboretum runs through Nov. 22.
Whatever you do, get out there and enjoy the cooler weather … and maybe a pumpkin spice latte!
#LovellLoves Fall!
Feature image: Steven Brown/State Fair of Texas